Bang: B-Squad Book Two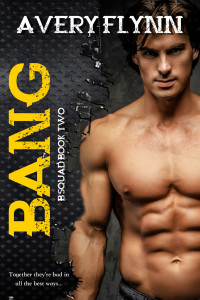 Freelance investigator Isaac Camacho has a weakness for bitchy blondes, and no one fits the bill quite like former beauty queen and gold digger Tamara Post. She's sexy, feisty and on the run from a cult leader. Complicated women? Oh he loves them almost as much as he loves watching Tamara act like a total ice queen when he knows she burns white hot.
Calculating opportunist Tamara Post never cared what anyone thought about her—except for her sister. But when her sister dies, it's up to Tamara to hide her teenage niece so the girl's dictatorial father can't marry her off to one of his disciples. The last thing Tamara has time for is Isaac—a man who flirts as well as he fills out a pair of worn jeans and whose stubborn determination to help makes it hard to act as if she's really as cold as she appears.
When the bad guys find her, there's only one person Tamara can depend on to help keep her alive until her niece is safe. But once the life and death chase is on, it's not just their lives Tamara and Isaac are risking…but their hearts.
Goodreads  Amazon  Barnes & Noble  iBooks  Kobo
---
Brazen: B-Squad Book One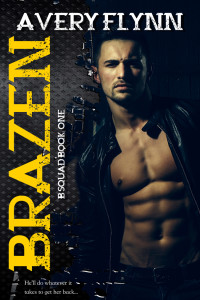 Falling in love is the easy part, staying together…now that's the biggest challenge of all.
Everything is finally working out for Bianca Sutherland and Taz Hazard. They're in love and running B-Squad Security and Investigations. They've planned the perfect operation to take down the dangerous drug kingpin who's kidnapped one of Bianca's best friends. Then Taz's wife—who was supposed to be his ex-wife—shows up on the eve of the big rescue mission and threatens to blow up his and Bianca's happily ever after.
The last thing Bianca wants after the revelation that Taz might still be married is to have to spend time with her former live-in boyfriend who never told her he'd ever been married in the first place. But it's too late to change plans. To save her friend, she has to swallow her hurt and go undercover with Taz as a newlywed couple at an exclusive resort. The only thing Taz wants is Bianca and he's willing to do whatever it takes to win her back. But when it's his life on the line, will it be too late for him to show her that his past is over and she's the only woman for his future…
Brazen is a stand alone novel and the first full novel in the B-Squad series. However, if you want to find out how Taz and Bianca met, check out Bulletproof, a novella set in Liliana Hart's MacKenzie Security world.
Goodreads  Amazon  Barnes & Noble  iBooks  Kobo
---
Bulletproof: A MacKenzie/B-Squad Book 0.5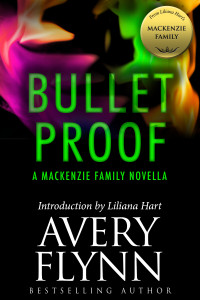 From Liliana Hart's New York Times bestselling MacKenzie family comes a new story by best-selling author Avery Flynn…
"Being one of the good guys is not my thing."
Bianca Sutherland isn't at an exclusive Eyes-Wide-Shut style orgy for the orgasms. She's there because the only clue to her friend's disappearance is a photo of a painting hanging somewhere in Bisu Manor. Determined to find her missing friend when no one else will, she expects trouble when she cons her way into the party—but not in the form of a so-hot-he-turns-your-panties-to-ash former boxer.
Taz Hazard's only concern is looking out for himself and he has no intention of changing his ways until he finds sexy-as-sin Bianca at the most notorious mansion in Ft. Worth. Now, he's tangled up in a missing person case tied into a powerful new drug about to flood the streets, if they can't find a way to stop it before its too late. Taking on a drug cartel isn't safe, but when passion ignites between them Taz and Bianca discover their hearts aren't bulletproof either.