The Layton Family Series
Passion Creek (The Layton Family Series Book Three)
"More hot stuff from Avery Flynn." – Lucy Felthouse
Uptight history professor Sam Layton may have the abs of a movie action hero, but he stopped believing in the joy of adventure a long time ago. However, when a one-night stand with a tattooed bombshell leads to a treasure map for the long-buried Rebecca's Bounty, the call to action is too strong to ignore.

All Las Vegas cocktail waitress Josie Winarsky wants to do is paint. But when she lands smack dab in the middle in a mob plot, she has to push aside her dreams to find a treasure in Dry Creek, Nebraska and save her family from harm. With Sam at her side and a Vegas loan shark on her tail, the treasure she finds turn out to be much more valuable than emeralds and rubies.
Excerpt:
Seduction Creek (The Layton Family Series Book Two)
RT Book Reviews gives it 4 stars. "The second novel in Flynn's Dry series is molten hot." 
I do believe I can arrest you for looking at someone like that. You've got to be breaking some indecency laws."

Taking a deep breath, Beth recovered her bearings. Mostly. "You're out of your jurisdiction sheriff.
Dry Creek County Sheriff Hank Layton is the stuff of dreams. Nasty, steamy, delicious fantasies that leave Beth Martinez weak-kneed and desperately wanting the man she can never have.
Hank can't stop thinking about Beth to the point where he's afraid of becoming permanently bowlegged. And even though the sexual tension between them is thick enough to trip over, she runs every time he chases.
But when a mysterious developer forces her neighbors off their land, Beth becomes the one person standing between the scoundrel and millions of dollars. Only Hank can help her uncover the truth. Together they risk their lives exposing decades-old secrets and learn that everything is not as it seems in their rural Nebraska town.
Goodreads: 
Seduction Creek (The Layton Family, #2)
reviews: 22
ratings: 34 (avg rating 4.32)
Excerpts:
Temptation Creek (The Layton Family Series Book One)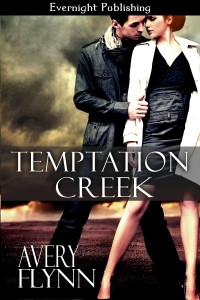 Claire Layton is a successful, though somewhat debt-ridden, restaurateur who minds
her own business—literally. She has enough on her plate between an irascible chef, an abandoned sous-chef, and the pressure of running her highly praised eatery, The Harvest Bistro.   But when she discovers one of her customers dead in her dumpster, her world begins to unravel.
Even as her county sheriff brother Hank and his team continue to swarm the property looking for evidence, she receives a threatening call.  It seems there's a slight problem involving the dead young woman in the dumpster.  She doesn't have her phone and her flash drive with her.  The killer makes it clear that Claire better find them by noon the next day or he'll go after her and her entire family.
With the clock ticking, Claire searches for the missing items to no avail.  Complicating matters is the arrival of Jake Warrick, a hotshot security expert hired by the dead woman's father to find her killer.  Claire's trying her best to get Jake out of her restaurant when her jeep goes up in flames.  The noon deadline has passed.
Determined to find the killer and to keep her family safe, Claire refuses to back down, even as the murderer continues to terrorize her.  Jake isn't backing down either, and the tension between the two—sexual and otherwise—continues to mount.  Jake has no intention of leaving Claire in danger—or before he gets to know her much, much better.
Clues, most leading nowhere, pile up, and the threads of the mystery are becoming still more complicated, even as the killer comes closer and closer to claiming his prize—and his prey.
In Up a Dry Creek, Avery Flynn brings readers a strong and sexy romantic suspense novel, with plenty of action, engaging characters and a shocking ending.
Goodreads:
Temptation Creek (The Layton Family, #1)
reviews: 31
ratings: 57 (avg rating 3.89)
Excerpts: