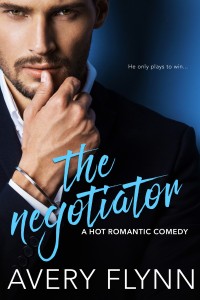 WANTED: PERSONAL BUFFER
Often snarly, workaholic executive seeks "buffer" from annoying outside distractions AKA people. Free spirits with personal boundary issues, excessive quirks, or general squeamishness need not apply. Salary negotiable. Confidentiality required.
Workaholic billionaire Sawyer Carlyle may have joked he needed a "buffer" from their marriage-obsessed mom, but he didn't need a waiting room filled with "candidates" to further distract him. (Thanks, bro.) But when a sexy job applicant shooes his mom and the socialite in tow out of his office, Sawyer sees the genius of the plan. And the woman. In fact, Miss Clover Lee might just get the fastest promotion in history, from buffer to fake fiancé…
This "free-spirit" might look like hot sunshine and lickable rainbows, but she negotiates like a pitbull. Before Sawyer knows what hit him, he's agreed to give up Friday nights for reality tv, his Saturdays for flea markets (why buy junk still baffles him), his Tuesdays and Thursdays for "date nights" (aka panty-losing opportunities if he plays his cards right). And now she wants lavender bath salts and tulips delivered every Monday?
Yup, she's just screwing with him. Good thing she's got this non-negotiatable six-weeks-and-she's-gone rule or Sawyer may have just met this match…
The Negotiator is coming to your eReader on April 24!
Amazon   iBooks   Barnes&Noble   Kobo   Goodreads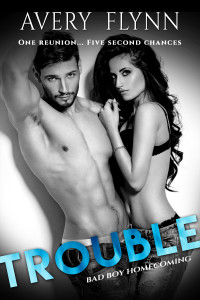 A High School Reunion Like No Other – Trouble: Bad Boy Homecoming
Brains and a badass attitude. That's all troublemaker Leah Camacho took with her when she left Catfish Creek. She'd promised herself she'd never go back, but when the invite to her tenth high school reunion arrived along with the chance to show everyone who doubted her what a success she's made of herself, she couldn't resist. However, when she discovers a 15-carat, stolen diamond in her rental car's glove box, there's only one man she can turn to for help—the same sexy, stubborn domineering man who'd smashed her heart all those years ago.
Sheriff Drew Jackson knew a long time ago that Leah Camacho was nothing but trouble and has sworn to never get caught up in her again—no matter how damn sexy she is or how badly he'd failed to forget her. But, when the woman who test drove his heart right into a concrete wall rolls into Catfish Creek with some serious bad guys on her tail, it's up to him to keep her safe—even if that means guarding her hot bod 24/7 without giving into temptation or losing his mind.
Trouble is coming to your eReader on June 27!