Coming Soon
Daring Ink (Dare to Love novella)
Murder, mayhem and makeup.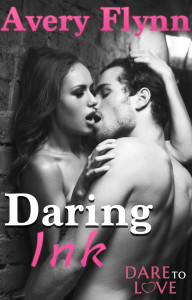 All tattoo shop owner Penny Dare wants is a good night sleep, but the activities of her oversexed neighbor can't be blocked by even the best earphones. When her plans for creative revenge go fabulously right, the cops show up at her door…or at least one very hot, half-naked cop who just happens to be her ridiculously endowed neighbor—if the women's panting praises are to be believed…
Former Miami Thunder running back Sawyer Dixon may have switched careers, but he'd always had a weakness for redheads. Despite all she's heard through the shared wall between their bedrooms, he bets a former teammate that he can land a date with with his sexy neighbor and helping her discover who is stealing her tattoo designs is the perfect way to get on her good side. However, as Sawyer gets to know Penny for more than just her jaw dropping curves, he realizes a single date may not be all he wants. But if she finds out the real reason he agreed to help her, all bets will be off…
Coming June 23, 2014
Trouble on Tap (Sweet Salvation Brewery 3)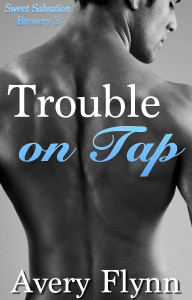 What fun is life without a little bit of trouble?
Retired supermodel and forever wild child Olivia Sweet is nothing but trouble. The youngest Sweet triplet is back in her hometown, but instead of a triumphant return it's a parade of humiliations. She's broke, homeless and dealing with the fallout from her scumbag ex-boyfriend publishing naked pictures of her to a revenge porn website.
Staid and stalwart veteran Mateo Garcia has seen more trouble than a man ever should in his lifetime. He's gone from pretty boy Marine to a small town police chief with a chip on his shoulder and scars covering the left side of his face. Now his former lover, Olivia, is back in town and living next door.
When the two are forced to work together to fix up the crumbling veterans' center, the sparks fly between the beauty and the man who sees himself as a beast. Not everyone is happy that Olivia is back home though and Mateo has to choose between the town who wants her gone and an uncertain future with a woman who he thinks could never love him…
Coming July 14, 2015 – Pre-Order on Amazon