So I may be in the Last Single Man Standing competition with my cousins, but five minutes around Kinsey was all it took to take myself out. Who cares about bragging rights when you've just found the woman you're going to marry? Sure, she may work for my biggest competitor. Sure, she's not dating right now. Sure, she's my sister's best friend and I've been sworn off her. But somehow she agrees to go on six fake dates to help me save face in this competition.
What does the guy who never uses his words have to say to convince the girl of his dreams that they're perfect for each other?
Dixon Beckett is the kind of guy who loves his mama, treats women right, and never ever wants to fall in love again. That's why he'll do anything to win a bet to be the last single man standing by Christmas.
He's got a plan, too. Create the most no-good, horrible, very bad dating profile in existence. Only someone actually responds to his ad…
As the only Beckett cousin who is still unattached, I'm a shoo-in to win the bet with my cousins to be the last man blissfully not in love by Christmas. Of course, I know they're still going to make me go follow the rules of our bet and go on six dates with the same woman—but I've figured out a way out of that too. I'm getting married. Is it love? Not even close. Chelle Finch needs a temporary husband and I need to win this bet. We agree to put a ring on it knowing that in six months this marriage of convenience will end in divorce. Except, somehow dating my wife has me realizing that I don't ever want to take this ring off if it means losing her.

What does the guy who can talk his way out of anything have to do to sweet talk his temporary wife into forever?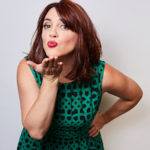 USA Today and Wall Street Journal bestselling romance author Avery Flynn has three slightly-wild children, loves a hockey-addicted husband and is desperately hoping someone invents the coffee IV drip.  More…
Be the first to know about new releases, book sales and more!