I laughed my lawn off at this cute, slow burn romcom, and now I never want to leave The Burbs!
The Wedding Date Disaster is an absolutely hilarious, sexy and swoon worthy haters to lovers romance that I loved so incredibly much.
It was emotional, yet funny. It was cheeky yet serious. She has a way with words that always fulfills my needs in a story. Her heroines are tough and fierce. Her heroes are sexy and playful. Emotional, funny and sexy. Royal Bastard is a definite must read this summer.
The Wedding Date Disaster is a sassy, fun, and flirty romance that I couldn't get enough of. I can always count on Avery Flynn to give me a romance with characters that I adore.
Funny and hot is a hard combination to pull off successfully, but I can always count on Avery Flynn to do exactly that with every story she writes. She won me over yet again with Royal Bastard!
Hadley Donavan can't believe she has to go home to Nebraska for her sister's wedding. She's gonna need a wingman and a whole lot of vodka for this level of family interaction. At least her bestie agreed he'd man up and help. But then instead of her best friend, his evil twin strolls out of the airport.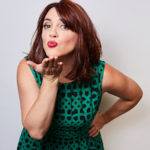 USA Today and Wall Street Journal bestselling romance author Avery Flynn has three slightly-wild children, loves a hockey-addicted husband and is desperately hoping someone invents the coffee IV drip.  More…
Be the first to know about new releases, book sales and more!