Loud Mouth is the perfect romantic comedy. 5 stars!
Parental Guidance is a delightfully fluffy rom-com where two parents set their kids up on a dating app to find love. Who wouldn't want to read this book off the premise alone?
It was emotional, yet funny. It was cheeky yet serious. She has a way with words that always fulfills my needs in a story. Her heroines are tough and fierce. Her heroes are sexy and playful. Emotional, funny and sexy. Royal Bastard is a definite must read this summer.
I had so much fun reading Attracting Aubrey...I laughed and smiled and just kept turning the pages.
Funny and hot is a hard combination to pull off successfully, but I can always count on Avery Flynn to do exactly that with every story she writes. She won me over yet again with Royal Bastard!
I've got to get out of here before I do something even dumber than I've already done and kiss the sexy grouch with his misplaced anger and perfect pecs. That would be the worst, the absolute worst. But… would it be terrible if we gave in? Just a little? It's not like we're ever going to have to spend time together again.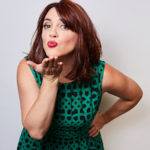 USA Today and Wall Street Journal bestselling romance author Avery Flynn has three slightly-wild children, loves a hockey-addicted husband and is desperately hoping someone invents the coffee IV drip.  More…
Be the first to know about new releases, book sales and more!