Parental Guidance is a delightfully fluffy rom-com where two parents set their kids up on a dating app to find love. Who wouldn't want to read this book off the premise alone?
Hilariously adorable and full of heart Awk-Weird had me giggling and melting equally from practically the first page.
Tomboy is full of sass, snark and broodiness, Avery Flynn's latest addition to The Hartigans series is delightful!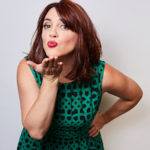 USA Today and Wall Street Journal bestselling romance author Avery Flynn has three slightly-wild children, loves a hockey-addicted husband and is desperately hoping someone invents the coffee IV drip.  More…
Be the first to know about new releases, book sales and more!